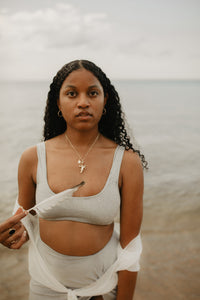 Our Story
Our hair care range draws upon the centuries-old practices of the Native American people. The Indigenous culture has always placed a tremendous amount of respect and reverence towards the earth, and this is exemplified in their hair care rituals. For them, grooming and taking care of one's hair is not just about aesthetics but also a spiritual practice of connecting with Mother Nature and expressing gratitude for all her blessings.
For centuries, Native American women have been using natural ingredients in their hair care rituals like geranium wild rose, horsetail root, and yarrow- all straight from the earth. These plants are believed to be gifts from the creator and are cherished for the healing properties they possess. We incorporate these natural and luxurious ingredients into our hair care formulas.
Our holistic hair care product range contains the star ingredient of geranium and other flower elements. This ingredient is renowned for its nourishing, moisturizing and revitalizing properties, making our products ideal for those seeking natural hair care solutions that promote healthy hair growth and are gentle on the scalp. Our use of yarrow helps to promote hair growth and repair damage caused by environmental stressors. In addition, Horsetail promotes optimal scalp health, leading to fuller and healthier hair growth.
We strive to foster a deeper connection to the natural world and respect for its resources. Our mission to promote mindful hair care has expanded and our company has partnered with indigenous manufacturers, ensuring ethical sourcing of ingredients and the promotion of traditional herbal practices.
At the heart of our company's philosophy is the belief that beauty should be about more than just appearance. It is about a sense of peace and a connection to the world around us. Our hair care products aim to provide women with a mindful, soul-nourishing experience that integrates ancient wisdom with modern science.
The Challenge
All too often, products are created with little regard for consumer health or environmental sustainability, and are instead formulated with toxic ingredients that can cause a range of health problems. These toxic ingredients can include harmful chemicals like parabens, phthalates, and sulfates, which have been linked to potential health conditions.
What's more, the lack of regulation in the beauty industry allows these products to remain on the market, putting consumers at risk of exposure to these harmful chemicals. This lack of transparency and accountability has led to widespread distrust of the industry and a growing demand for safer, more sustainable alternatives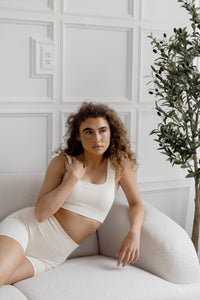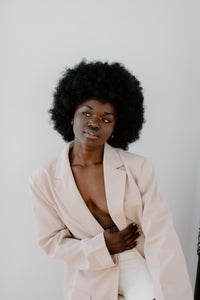 Our Solution
We are the solution. The company was established in 2019 with the utmost pure intention of formulating clean, holistic hair care products. At Nourished, we believe that every consumer deserves access to safe and effective personal care products, and we are committed to using only pure, holistic ingredients that promote overall wellness. We are proud to be a brand that you can trust to enhance your wellness journey.
OUR FORMULAS
The indigenous people have always had a deep connection with Mother Nature, and this is reflected in their hair care rituals. They believe in using natural ingredients straight from the earth, to promote hair growth and maintain healthy hair. Hair care is viewed as a spiritual practice that honors and connects with nature. The Native American has a rich heritage of utilizing natural ingredients in their hair care, and their centuries-old practices still inspire us today.
Nourished by Shawnta is committed to promoting mindful hair care that respects the natural world. We partner with indigenous manufacturers to ethically source our luxurious, natural ingredients, which work to hydrate, promote hair growth, repair damage, and support optimal scalp health. Experience soul-nourishing, mindful hair care that integrates ancient wisdom with modern science.
500+ REVIEWS
Our community found 500+ ways to say
"I love it!"

AS SEEN IN...
Our brand has been commended by the most renowned publications around the globe,
for its meticulous approach to hair care.
.